I had this Regency Ballgown made for a large Napoleonic event in Maryland years ago, which was supposed to be a cotton day dress made in my measurements, but was sent this dress by a UK costumer as a mistake. I honestly don't know where I can advertise the sale of it, it's my eBay auction listing, and I will have one or two more Regency War of 1812 Reenactment pieces for sale (most are gone already) under that eBay username in the near future.
I hope this is ok, if not, please forgive the posting,
Have this absolutely amazing dress up for auction, completely forgot to mention it on LJ till today.
http://cgi.ebay.com/ws/eBayISAPI.dll?ViewItem&item=280708324821&ssPageName=STRK:MESELX:IT
Above link takes you to eBay auction listing.
Listing ends in about 4 hours. OOAK Regency Ballgown or Bridal Gown. Size is fairly open, L-XXL.
Normally a custom made dress of this period with this much detail and fabric would run $300-$400, but the seamstress goofed the measurements and sold it to me with several small barely visible snags and one or two dot sized marks that need to be soap & watered-off... I've never worn the dress because the mistake in measurements, so it's brand new, and would be perfect for period events involving weekends outdoors, camping, or travel, as it's not a dress you have to worry about ruining. It's a pretty sturdy design, incredibly easy to wash, and as long as the beads are treated kindly, should have a very long life in it! The high gloss and the movement of the dress conceal most flaws, however, if you need something absolutely flawless, please don't bid. With a Spencer Jacket and sash, most flaws vanish.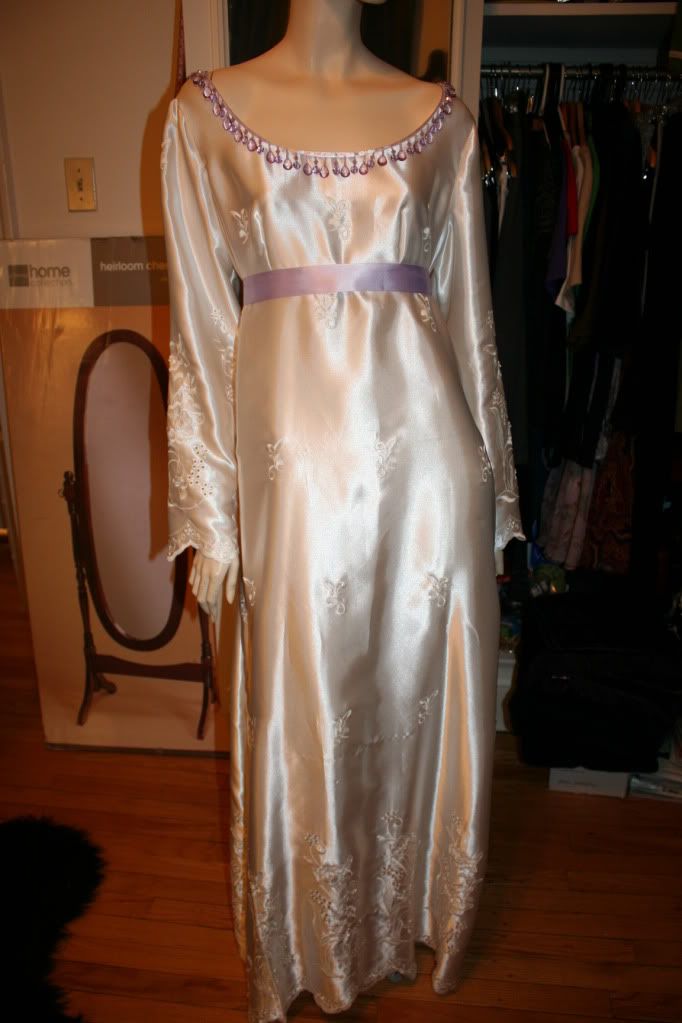 OOAK custom made REGENCY BALLGOWN, REGENCY EVENING DRESS, OR PERIOD/COSTUME BRIDAL GOWN.
(Dress colour is a deep glossy white, not yellow in any way - some photos have off lighting).
The dress would also be perfect as a bridal gown. Please please please check the measurements and read about the tiny flaws before bidding. This is not a perfect, flawless gown, as stated above, it would be in the hundreds, if so! Flaws are all mostly invisible except for lower front as seen in photos.
*MORE PHOTOS AND INFO AFTER CUT*
(
Read more...
Collapse
)
Snags:two in front of fabric(one near empire seam, one lower portion), one on arm, one in back on left side, and a couple almost invisible little places where a dot sized pull exists. One bead in back is still on threading but needs to be reattached to collar.
http://cgi.ebay.com/ws/eBayISAPI.dll?ViewItem&item=280708324821&ssPageName=STRK:MESELX:IT
Above link takes you to eBay.